Monday, December 17, 2012 11:35:46 AM
King's Game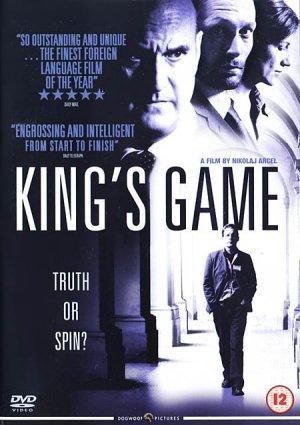 Zaphira
says: This is a 2004 Danish movie about political spin. The young idealistic and inexperienced journalist Ulrik Torp (played by one of my favourite Danish actors Anders W. Berthelsen) is rather smug when he is placed on trial as a reporter at the Danish Parliament for the newspaper Dagbladet. The national election is just around the corner and there is suddenly a lot to write about. It so happens that the Middle Party's leader Aksel Bruun (Jesper Langberg) is badly injured in a car accident.
Before Ulrik Torp knows it, he has become a chess piece in a large and deeply ferocious power of intrigue involving two of the Middle Party's strongest characters, Erik Dreier (played by another favourite actor, Søren Pilmark) and Lone Kjeldsen (Nastja Arcel) who is nominated to be the party's crown princess.
Ulrik Torp does of course try to uncover the correct context, but all he meets is either silence or opposition from both politicians and journalist colleagues. The big question is: Will the spin actually work, and thus fool the Danish population into voting for someone they shouldn't vote for?
This movie is based on a book by the same name, and the book is loosely based on a true story - with rewritten names and events. It's rather interesting to note that the original novel was written shortly after the writer, Niels Krause-Kjær, quit his job as spin-doctor (officially, Press Officer) for the Conservative party in Denmark.
The director is Nikolaj Arcel. It's his first movie as a director; and he does a marvellous job. The actors were perfectly cast and they all played convincingly. I especially swoon over Anders W. Berthelsen, who is so cute
, and Søren Pilmark as the politician who goes for total power plays so convincingly that he almost scared me! The last one I'll mention is Nicolas Bro, who plays a journalist colleague. He plays really good as well. Thumbs up for the actors, I didn't see any bad apples there!
The book got great reviews, and so did the movie. And I agree with the critics.
out of 6.
Flarin says :
We have this in it's original Danish form (and title, 'Kongekabale'), and so we watched with english subtitles for my benefit
The film starts with the accident that takes care of Aksel Bruun, and the manipulation of the journalist Aksel Torp starts pretty much as soon as he arrives in Parliament as the cub reporter. No time is wasted beating about the bush with this movie - it cuts straight to the chase.
The story is as Pussy cat describes, and I don't want to include any spoilers, so I don't need to really expand upon what she's said. This is a very well constructed political thriller\detective story. At some point along the way, we guess the answer, but as with most detective stories, the unravelling of the threads that eventually lead us to the knot is the thing - and this aspect is dealt with superbly...it really is a quiet cliffhanger - this is a movie all about content, not shallow drama. The story has it - and as Pussy Cat says - it's based on true events. That in itself gives one pause for thought.
I give this
out of 6 too - extremely satisfying and enjoyable
I'd just like to add : Anders bloody Berthelsen dressed as a girl :
Cute? Perhaps. Ha!
17 comments