Deconstructivism
Wednesday, May 23, 2007 11:15:21 AM
This post is my little contribution on understanding contemporary art, especially architecture and design. It is not written for architects and designers (they are supposed to already know that), but for normal people who want to know something more about what's going on now in architecture and understand it. So I have to warn experts and "experts" that some simplifications are neccecary, but basicly the point is there.
Click below to continue...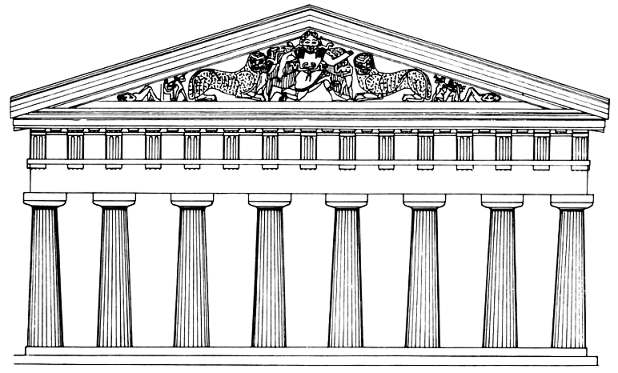 To understand the whole thing, we have to look back in time. The whole Euro-Atlantic history of architecture is based on it's roots in Ancient Greek architecture, more or less, on it's temple. The most profound example of that is
Parthenon
(Athens). Some periods were more about that (like renaissance) some less (like gothic architecture). But untill late 19th century we have quite steady flow of all those columns, pillars (etc) eventhough the variations in ideas are quite significant and sometimes with high level of contradiction (like
renaissance
vs.
baroque
).
But in early 20th century steel and concrete were introduced to construction. Young and abmitious architects soon became aware of it's potential and began to create compleetly new forms. Some of them also thaught that classic ornament is totally out and clean geometric forms are the right thing to pursue. If you mix that together with uprising socialist ideas of that time (between WW I. and WW II.) you get modernistic architecture with its founder
Le Corbusier
. Their style is today called
modernism
. At the begining they were considered quite rebelious, but then again, every revolutionary movement was based on the idea that old garde should simply fuck off [Freud would say it is just a symbol for son vs. father]. On the left is famous
Villa Savoye
which is more like a statement or manifest than a house.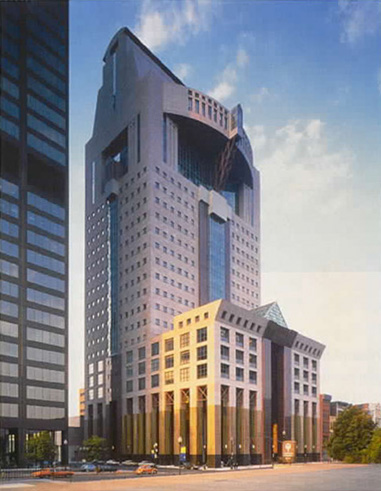 Well they didn't last long... In late 70's people soon realised that Le Courbusier's ideas contain to many simplifications. Many of them come from socialistic way of thinking which denies human as an indivitual beeing with individual needs and also individuality as a need it self. Most of the pionir modernists were already very old or even dead that time, so the new generation wanted them to "fuck off", but they didn't exactly have a plan how to do it. So they figure it out, that they should return to classic aestethic, based on Greek temple. This new movement was later on called postmodernism and is particulary significant in USA where many houses were built exactly like they were 2000 years old. Some went a bit further and used new materials, but basicly they didn't invent anything new.
Postmodern houses can be easily recognised; they were built between 1970-1990, they are usually very symetric, they use columns and pillars, arches (especially at the enerance) and other "modernised" elements of classic ancient building. The problem is, that most of those architects don't really know a lot about ancient architecture and they are just blindly repeating (and some of them are not very good at that either). On the left you have
Humana Building
(Louisville) by
Michael Graves
, which is rather good architecture, but next example is IMHO grotesque: Piazza D´Italia, New Orleans:
°~°
So soon they realised, that this is not the path to go. We can't built Greek temples for ever... If we send man on the moon, read DNA, drive cars, use internet (etc) we have to make similar step forwart in architecture and design as well.
Two directions were formed. First is
minimalism
, which is theoreticly based upon
Mies van der Rohe
's quote "less is more". That is somehow correct, but rare are those who master design so well, that can achieve high level of expression and aesthetics with such minimum. Not everyone is Mies.
The other direction is much more interesting to me. It is called deconstructivism and was founded by Bernard Tschumi. They deny completly everything... Even the orthogonal geometry that was so obvious for the whole history now breakes down and is completly irrelavant (see the picture below). Every "roule" falls under doubt and suspicion. The term de-construct-ivism describes what happens in someones head; the basic idea of an object (like house, for example) is smashed [=deconstructed] into smallest possible pieces, each of them is carefully thaught over and then re-constructed back with new logic. A deconstrictivistic arist will ask himself; is this neccecary or can it be done differently. If it can, then how?
The first deconstructivistc poject was made by Bernard Tschumi as entry for
Parc de la Villette
contest. After that many followed. One that is considered to be very important was
The Jewish Museum
in Berlin by
Daniel Libeskind
(pictured on the left).
Deconstructivism searches it's theoretical background in achievements of modern day science, such as psyhology, biology, mechanichal engeneering etc... They tend to use high-tech materials that enable them new forms and shapes.
So here we are today with many great architects and designers trying to redefine our way of thinking. Many of those projects are experimental, but they might lead to new ways of designing, housing and even living. A house for today's living must include all paradigms and paradigm shifts we are facing today, incliding electronic comunications, high level of individualism and rapid social and environmental changes. Constant rethinking of every possible idea might be a right answer to that.
On the bottom: Mediterranean Museum of Nuragic and Contemporary Art by
Zaha Hadid