RR: Bomberman 93 (TGFX)
By AntonCaptainSeagull. Tuesday, May 15, 2007 9:47:02 PM

Every Monday Nintendo adds a few more games to their U.S. list of Virtual Console games. These games are downloadable from the Wii Shop Channel. The games come from a list consisting of the original Nintendo Entertainment System, the Super Nintendo, Sega Genesis, Turbo Graphix, and the Nintendo 64. Every Tuesday N+ provides you with one "Retro Review" of one game off of the list. The Retro Review is designed to introduce young or new players to some of the "classics" that made gaming what it is today, while also providing a reminder to those who have already played these games, how much fun they really had. This way, whenever you want to download a new VC title, you can have at least one place to turn to see if it was good before you spend those Wii-Points. "Read More" for the review...
This weeks' game:

Bomberman 93


Game Price:

600 Wii points
Bomberman 93 is pretty much like every other Bomberman you could ever find. Alhtough there are always a few exceptions... "Bomberman 0" for X360 sucks, No other Bomberman before this game allowed you to kick, one N64 Bomberman was only one player, and the DS Bombermans had two screens of awesome. - Otherwise the simple mechanics that made Bomberman what it is, is all here.
Story:
Black Bomberman has cut power to the galaxy's own power station, which resulted in disputes between seven planets, and it is up to White Bomberman to restore power to the station and bring peace to the planets again.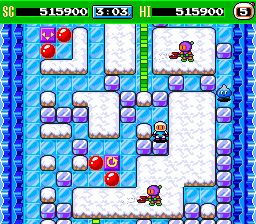 Bombermans single player lets you do the same thing you have done in any of his other games: Run through the level bombing everything you can, pick up power ups (that let you run faster, kick bombs, sometimes run through walls and bombs, make larger explosions for bombs, switch to remote detonated bombs, set more than one bomb, and set a string of bombs), kill enemies, and find the secret exit to progress.
Sure the mechanics sound simple, and it's due to the fact that they are! But truth be told the single player mode is not for most people. SOME people do enjoy 50+ levels of the same exact thing, with only a few lives, and even less continues. So why would N+ bring this game to your attention? because of the awesome Multiplayer battles!
Bomberman was made to be played in the multiplayer "battle" mode - there is no disputing it! Which drove players nuts when they bought Bomberman Hero for N64 and realized there was no multiplayer! AH! (so dissapointed)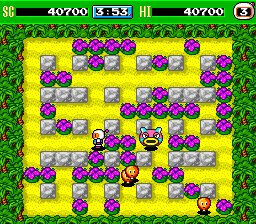 In battle mode you get a bunch of different playing fields to choose from that each provide unique map-mechanics to the battle. In the sky world, the clouds you bomb out of the way sometimes re-appear, either resulting in accidentaly trapping yourself with no-where to go, trapping yourself with a freshly laid bomb, or blocking you away from that power up you needed so badly. Other levels feature warps you can use to escape bombs, or accidentaly warp straight into another players trap, and some levels feature walls you can move. One simple level doesn't allow some bombs to be placed in certain parts of the floor.
Of coarse all of the same power-ups from one player mode are there (minus the walk through walls and bombs power-up). I espessialy like the "virus" pick-ups you can get. They are little skulls that sit in the level that most people avoid, I however always scamper for them. Most of the time they harm you by: Weakening your bombs to tiny explosions, giving them incredibly short fuses, continualy moving you in the direction last pressed, making you run real slow, inverting your controls to make you run backwards. You can pass these virus' along like the plague by touching another player, and they do wear off after a few seconds. However sometimes you get a side-effect that you LOVE like giving the bombs monsterously large explosions, or enabling you to run at super speeds (both of which require great responsibility to use).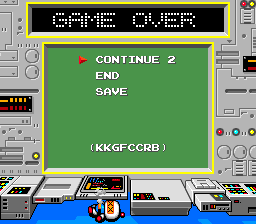 Bomberman battling can last for hours and hours, all through the night when you get enough people, and somehow 5-players are availible to play on Wii!! - I havn't attempted it yet, but my guess is that one player MUST use a gamecube controller, while the other players can use Wii-remotes or Classic Controllers. If anyone wants to fill N+ in with confirmed 5-player Wii action let us know!
N+

8/10

If the game was awesome instead of decent in single player mode, this game would get a full 10. But the Multiplayer mode rocks this game into space!


Cost: 600 Wii Points
Full North American Virtual Console list