By AntonCaptainSeagull. Friday, October 20, 2006 3:35:55 PM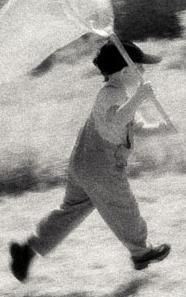 Folks, I bring you good fruit from the
knowledge tree
! this is very delicious stuff. Everyone who gets in on the pokemon action better listen up, and Neeecole I
know
you are going to dig this.
Everyone who tries to catch them all sorta felt bad when we heard that we could trade all the old pokemon to DnP to finish our collections. We only felt bad because most of us 100% Legit players still havn't got them all in the GBA versions. I personally am only missing one event pokemon and it's Deoxys (If you have him let me know! I just wanna put him in my dex!) plus alot of regulars I gotta evolve.
ANYWAY - The delecious info I bring you will make all of us collectors happy, very happy. It should also make regular player who mainly go after the battles happy to, because of the ready variety.
The only pokemon you cannot capture in DnP are:
3 starters from each prior game + Evolutions of those starters
+ Legendairy Pokemon from those games! this means...
Bulbasaur

Ivysaur

Venusaur

Charmander

Charmeleon

Charizard

Squirtle

Wortortle

Blastoise

Articuno

Zapdos

Moltress

Mewtwo

Mew
Chikorita
Bayleef

Meganium

Cyndaquil
Quilava

Typhlosion

Totodile

Croconaw

Feraligatr

Raikou
Entei

Suicune

Lugia
Ho-oh
Celebi
Treecko
Grovyle

Sceptile

Torchic

Combusken

Blaziken

Mudkip
Marshtomp
Swampert
Regirock
Regice
Registeel
Latias
Latios
Kyogre
Groudon
Rayquaza
Jirachi
Deoxys
Ok, so this list looks a bit daunting but go ahead print a list and check the ones you already have off, better yet! post any of the ones you have in the comments section, later when DnP launches will make a forum topic for it. If between us all we can join forces we should be able to do this, The ones I have are
Bold
. The
Italics
are to signify that I recived it from a friend to fill my dex and was traded back, or it evolved. I have done this all owning only emerald, today actually I am picking up Leaf Green. Are U guys ready to friend code?
- Captain Seagull
[+UPDATE] I just got my japanese Pearl and started playing, it is totaly awesome, and her in a day or two I will get a hands-on impression written in the DS forums...
38 comments