By AntonCaptainSeagull. Friday, March 9, 2007 1:35:19 AM
Here at N+ we pride ourselves on bringing you the newest information on upcoming, and new releases, it just makes us feel good. But we thought "Hey! why don't we re-unite people with their old games, or introduce n00bs to old Nintendo treasure"!? - Thus our Retro-Review is born! the RR will provide reviews of many of the games that show up on the Wii Shop Channel, aka Virtual Console Games, and may aide you in your choice of wii-point spending. Any game you think we should consider? tell everyone about it
here!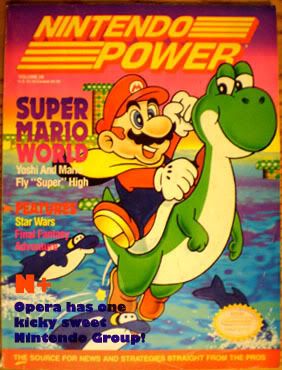 Our first RR game is my all time favorite, Super Mario World! We are lucky enough to have an old Nintendo Power (volume 28) lying around the Captains Quarters for a truely insatiable review. So, without further delay SMW snippets from Nintendo Power: September 1991...
Our Hero! Mario: With a steady diet of Super Mushrooms and Fire Flowers, Mario has always been able to grow big and shoot Fireballs. Now, by touching a mysterious Cape Feather, he can also take to the sky and drift slowly back down to earth. A Star is Born! Yoshi: The land of dinosaurs is crawling with Koopa-controlled creatures who aim to keep Mario from conquering Bowser. Lucky for Mario, though, ther's one dinosaur who'd like to see Bowser beat just as much as he would. He's Yoshi, a rollicking reptile with an apetite for menacing meanies. He'll carry Mario through some tight jams, but he'll run for the hills if the enemies bite back.

When Yoshi gulps down 10 Red Apples, he'll lay an egg that reveals a Super Mushroom.
Two Pink Apples produce a Bonus Coin
A Green Apple is good for 20 extra seconds on the timer.

Yoshi has three special abilities that are triggered when he swallows Koopa shells of certain colors. He also has three cousins that come in those colors and carry one of Yoshi's special traits when they swallow any shell. You'll discover them in the elusive Star World.

Red Yoshi: When this crimson creature grabs the shell of a Koopa, he lets forth a three-Fireball blast.
Blue Yoshi: By biting down on a tasty turtle, this blue wonder will gain the ability to fly for a few seconds.
Yellow Yoshi: When Yoshi's yellow cousin eats a Koopa, he'll be able to shake the ground with super strong jumps.

Dinosaur Land and the nine areas




Yoshi's Island: Your adventure begins here. Yoshi has left his home, but you'll catch up with him quickly
Donut Plains: This land features several secret passages, inculding the first mysterious Star Road
Vanilla Dome: Underground caves and underwater passages make the Vanilla Dome and explorer's dream
Twin Bridges: The Cheese Bridge is on bottom, and the Butter Bridge will appear on top when Vanilla Fortress is destroyed
Forest Of Illusion: You'll have to be very observant to find the right paths in this maze like forest
Chocolate Island: While the chocolate hills of this area can be tough to get around, the real challenge is in Wndy's Castle
Valley Of Bowser: King Koopa resides in a huge castle of his own design in this dangerous area
Secret Area Star World: There are five Star ROads scattered throughout Dinosaur Land which lead to the five points of Star World. [Getting here requires finding the secret exits to some levels. Star World also is home to each of the colored Yoshi's. Can you find the secret exit into Special World?] - Nintendo Power, V28, September 1991
The game features amazing visuals, and phenominal level structure. As a veteran visitor to Dinosaur Land, I can point out every secret exit, and the quickest path through the game. However if you are a new player, this game will take you some time to explore everything. Novice players will also find a perfect level of difficulty. Just because this game is suitable for all ages, doesn't mean that it's only for the kiddies! SMW is seriously one of the best games ever created by most gamers standards, in my eyes it is the number one game of all time.
N+:

You MUST download this game.

10/10
Cost: 800 Wii Points
- Captain Seagull
7 comments