Friday, August 15, 2008 9:43:57 PM
Ebony paws tread lightly upon matted grass tussocks; white claws are stained as they gain purchase on the damp bark of a long-fallen branch. Cover of hedgerows has been forsaken as both light and rain fade from the once fitful sky.
She listens not for the laugh of the woodpecker who briefly alights on a bare bough of a birch. She cranes her neck to focus her ears through the impenetrable forest of grass stems that obscures her eyes. Her muscles tense, her brush, grey but flecked with black, flagged out straight behind her; whether it is a counterbalance or just an involuntary expression of mood, I cannot tell. She describes a low arc, flying with silent precision, yet her prey - be it rodent or insect - seems to evade her. Failure is no deterrence. With quiet patience she resumes her hunt.
Evening is falling; and more, the first signs of the summer's end sprinkle the hedgerows in the form of blackberries that have lost their sour green hue. Out on the farm, the wheat has been harvested and the hay baled. Time cycles without ceasing, yet the most frantic procession of the seasons is revealed in the land's most subtle details. Those details I keenly seek. I have reasons aplenty to be longing for the autumn.
-
Just a few random observations from what was a quintessential meadow fox sighting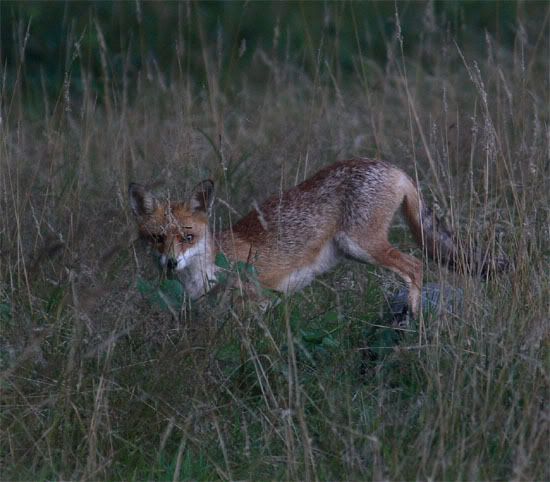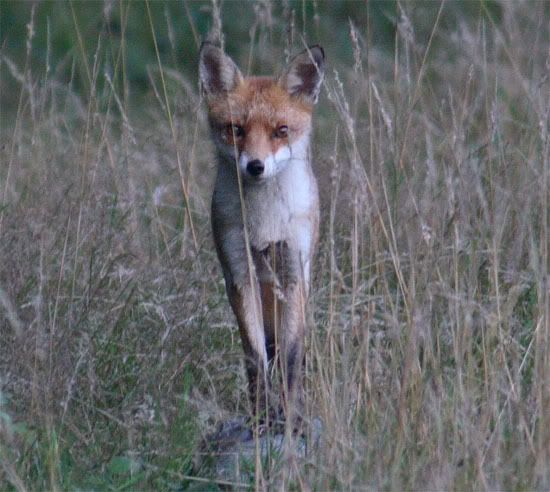 24 comments