Bubbly state.
Thursday, May 27, 2010 9:39:31 PM
Funny that I still experience jetlag after so many days in Oslo. Maybe it is not jetlag. Maybe it's bubbly state. Surprises every day, all day long. Every time I look at the calendar or the clock. It's a daily formula:

Day n: Wow, it's already <insert the date today>!


Same thing with the time. Continuous shock for psyche
Like first grade maths all over again.
Speaking of bubbly, this is a real bubble city! I went
S
H
O
P
P
I
N
G
last weekend, and saw this
: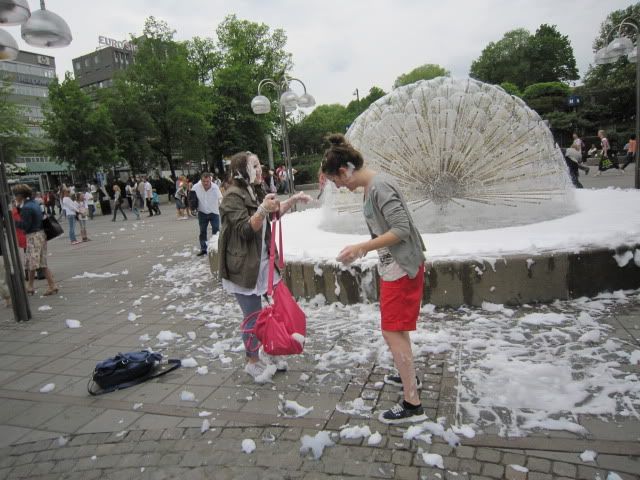 It is a quite common scene to spot here, I have seen it twice, this time could not pass by without picturing it. The first time was somewhere near Police Station, the statue was peeing kid, also bubbles all around him. And nearby, a real small girl was washing hands in it. So banana
! I guess people get bored from time to time from their sports activities (Norwegians are huge sports fans. And they actually practice it
, unlike Vietnamese) and decide to do something ... like that. Wonder what else will I see
.

Oh yeah,
S
H
O
P
P
I
N
G
! I guess will also be the last one
. Trying not to think about lack of it in near future. Will be a shop maniac by the time I invade Holland this summer

Got my Movenpick ice-cream, finally, but it was too big to handle. Haven't seen any cream that big before, should call it ice-bomb instead
. I hope that in following pictures I still look young and cute like I was back home
(flushing awfully
)




And for the question: Is Norway that expensive?
There is a counter-question: Is the world that round?

Bonus picture, at the office: my own desk, property, kingdom and coffee table. I will go for a photo hunt tomorrow to get you some insights about mystery life at Opera Home.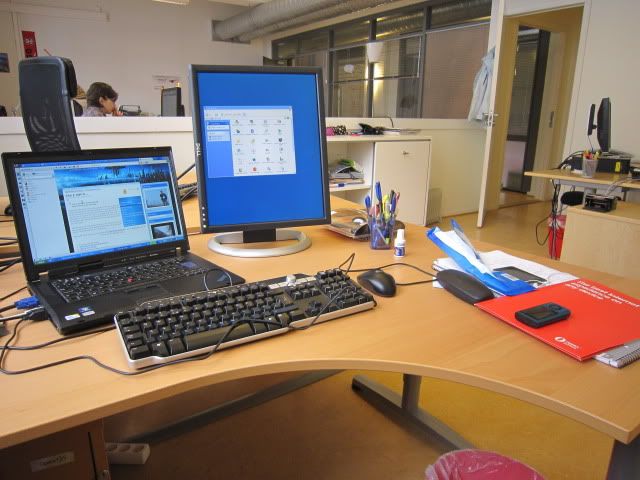 Finally, sweet things that make my day complete: sunlight till 10 p.m., cool breeze from the street onto my window, joy from doing what I like for a living, and mid-night sms from the one far far away.




I miss home!

Wink,


Van.