Posts tagged with "
human being

"

Tuesday, April 23, 2013 3:16:28 AM

Everyday is Earth Day!
Connect the Dots
No comments
Thursday, June 14, 2012 8:28:43 PM
"This is not a call to civil disobedience, but rather a call to civic responsibility.
This is not a protest against liberalism, but rather against slavery. I'm not pointing the finger at those who suffer, but those who sleep and let themselves be led by the nose. That's right the worst."

Excerpt from "Appel à L'Humanité Entière", by Laurent Bartholomé
→
Read in full - Understand - Translate - Spread ((♥))╭∩╮(︶︵︶)╭∩╮
No comments
Tuesday, November 24, 2009 7:09:32 PM
Know about me in
Português
Français
Español
Italiano
Deutsch
Русский
Ελληνικά
Polski
Český
Türkçe
Tagalog
Bahasa Indonesia
Melayu
हिन्दी
العربية
فارسی
Japanese
Chinese
Korean
or
choose your language here
[/SIZE]
Resistance is not futile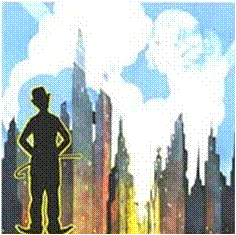 Do not get social networks the wrong way; do not be fooled by your own anxiety. Keep on considering the other as a person, not just one more in a collection of virtual friends, or a number or a picture with a nickname. Leverage social networks to communicate directly with people... Resist the temptation to always communicate in a bulky way; you are not in a radio studio. Talk to each one of your friends particularly, whenever you can.
Remember: You are a human being, not a machine. You just use machines; you are not one of them.
Angelo Polveroso
Image: Charlie Chaplin's "City Lights"
Este post em português
aqui
II Simposio Centro Mundial de Estudos Humanistas
contact angelopolveroso
No comments