Tuesday, November 24, 2009 7:09:32 PM
Know about me in
Português
Français
Español
Italiano
Deutsch
Русский
Ελληνικά
Polski
Český
Türkçe
Tagalog
Bahasa Indonesia
Melayu
हिन्दी
العربية
فارسی
Japanese
Chinese
Korean
or
choose your language here
[/SIZE]
Resistance is not futile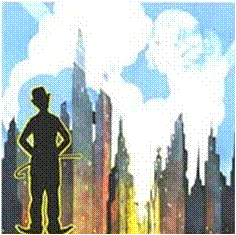 Do not get social networks the wrong way; do not be fooled by your own anxiety. Keep on considering the other as a person, not just one more in a collection of virtual friends, or a number or a picture with a nickname. Leverage social networks to communicate directly with people... Resist the temptation to always communicate in a bulky way; you are not in a radio studio. Talk to each one of your friends particularly, whenever you can.
Remember: You are a human being, not a machine. You just use machines; you are not one of them.
Angelo Polveroso
Image: Charlie Chaplin's "City Lights"
Este post em português
aqui
II Simposio Centro Mundial de Estudos Humanistas
contact angelopolveroso
No comments