Monday, November 30, 2009 5:56:06 PM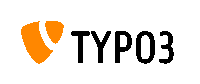 Today TYPO3 4.3 hit the streets with a lot of
new nice features
:
* Mass uploader
* AJAX Frontend Editing
* Optimized performance
* Improved security
* Integrated System Scheduler
* Improved caching framework
* Improved recycling of deleted records
* New templating engine
...and much, much more!
Besides that fantastic release the important
tt_news extensions is released as version 3.0
which brings a lot of improvements too.
But that's not all:
Templa Voila 1.4.0
, another very important extension, hit the streets.
So the TYPO3 development is very active this time
2 comments