I'm a Browser.
By .edDotEd. Sunday, August 7, 2011 1:01:02 AM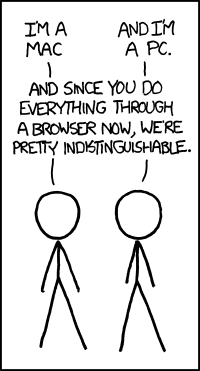 At Opera, we scream it from the rooftop every morning, and this will be the decade it happens: the Browser as an operating system, and it makes sense, too!
15 years ago this idea was ludicrous even to those that were working toward it, but the desire to make it work was there.
10 years ago a foundation was laid with buzzwords that were *so web 2.0* but old ways threatened progress.
5 years ago app stores seemed to be a different alternative.
Today, XKCD clears up the confusion in a way most of us can relate (sorry Linux, but we know you get it, too).

Does being a 'Browser' mean the end of fanboy arguments over Mac and PC advertisements? Doubtful, gamers have proven that hardware seems to still matter when they're all playing the same game on PS3, Xbox, Wii, on a computer, etc... We just need to make sure everyone's getting the same Web, and not a specialized version of it on one place or another. Fragmentation of the Web is counter-productive.

So, are we there yet? Is XKCD making the call too early? Do you consider yourself tied more to your hardware, or the Web?