Tuesday, December 9, 2008 5:09:07 AM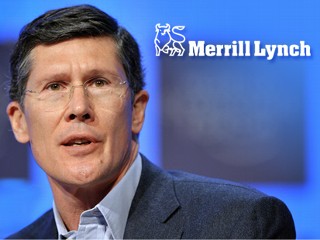 Merrill Lynch chief executive officer John Thain has suggested he get a 2008 bonus of as much as $10 million.
Now let me ask you... If I worked for you, and you paid me $17,307,610.00 last year, and I lost $10 billion dollars (that's TEN BILLION) for you, and I asked you to give me a bonus of $10,000,000.00, what would you tell me?
When Washington Mutual had a bad turn, my bonus was cut 75%. The six top executives decided that their bonuses should not be affected because the billions of dollars they lost was due to the market. The CEO got his $15 million. They gave themselves golden parachutes in case they went under and when 10,000 people lost their jobs and retirement, these guys were home free with millions.
Now you know that I am just a little bit prejudice when I talk about CEOs getting big bonuses when they do nothing to earn it.
How on earth do you grow balls big enough to ask for that kind of money for that kind of performance?
If you need insurance, get it from a company like Aflac.
Aflac CEO Dan Amos said Thursday that he will give up the $13 million golden parachute the insurance company would owe him were he to be fired or lose his job in a merger or acquisition. He said that the exit packages should be only to protect someone when they enter a company giving up a larger stake. "It's kind of tough to say any CEO makes a personal sacrifice," Amos says, but adds that most negotiate golden parachutes when they are hired, knowing that job security is tenuous.
Aflac also became the first major company to let shareholders vote on CEO pay.
Aflac is one of the few companies making money and says they do not need a government bail out.
YOU GO, DUCK!
8 comments