Wednesday, February 29, 2012 12:49:38 PM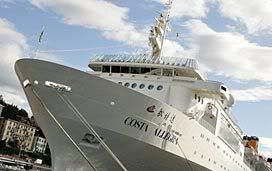 Indian Ocean
(Nearing
Seychelles)
- A small (295-foot) French fishing ship is currently towing the disabled Costa Allegra Cruise ship towards the island of Seychelles (population 86,000,) and not expected to arrive until Thursday. She lost power in the Indian Ocean on Monday after a fire in the engine room with over 1000 passengers and crew aboard. It is reported that all are safe aboard the Allegra, as reported by the
BBC
Tuesday.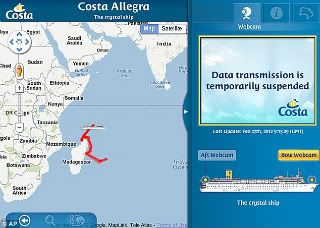 The Allegra has been
adrift
in the Indian Ocean since Monday, and there is no air conditioning aboard, with the temperatures running around
30C.
More safety crews have been dispatched with more tugs and supplies for the passengers. Food and water has been brought to the Allegra by helicopter and most passengers are on the decks to avoid the hot temperatures in their cabins. The Allegra set sail from
Madagascar
on Saturday and was expected to arrive in Seychelles on Tuesday.
Costa Cruise lines is not having a good year, after the sinking of the
Costa Concordia
grounding off the coast of Italy in early January where over 30 died and several still missing, of the over 4100 passengers and crew. Just last weekend, the parent company of Allegra and Concordia,
Carnival Corporation,
suspended onshore excursions on their ships arriving in Mexico. This came about because 22
passengers were robbed
while on one of these excursions in Puerto Vallarta, Mexico.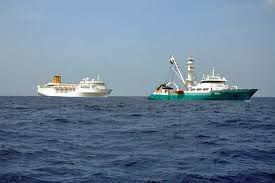 There is still concern for passengers aboard, as that section of the Indian Ocean is pirate infested, although there are armed anti-pirate Military units aboard the ship to protect the passengers.
Several planes
are being arranged in Seychelles, so when the passengers arrive, they will be able to get home safely.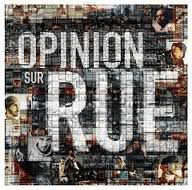 Daniel ... Toronto, Canada
My take on everything


@dandmb50





Toronto Restaurants
No comments