Bell Canada admits tracking customers internet usage is bogus, and shuts down bandwidth usage monitor on Bell.ca - Review
Wednesday, February 9, 2011 8:53:38 AM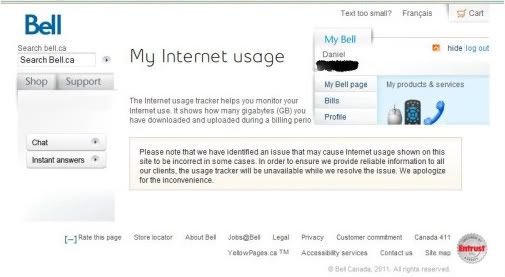 Screen grabs courtesy of Bell.ca

[/color]
IMPORTANT UPDATE - February 24/2011

- I'm still having bandwidth issues but did find an interesting thread on DSLreports which talks directly to the issue and there is also a

direct phone number

posted there to contact Bell's Executive Team in Montreal. (it seems the phone number in Montreal is just an answering machine, can never get anyone and they "SAY" they will call back, I'm still waiting) Good luck, don't give up because I'm not either. The picture quality is impressive on FibeTV when it works properly and I'm happy with the internet except for the bandwidth issues. On the TV side I'm still getting pixilations and sound outs but it's not as bad as three months ago.
UPDATE - February 11/2011

- Excellent story and viewpoint by leanne about the Bell internet bandwidth charges in the SceneAndHeard website from Toronto.




UPDATE - February 10/2011

- I just read a thread on DSLreports and people are getting very angry about this

"Bell internet usage monitor"

which appears not to be working now and possibly never really worked before. It appears customers had their doubts about this from as far back as 2009.                                                                                                            SceneAndHeard


"Bell has their fat finger on the scale".
[/size][/color]
Here's another more updated THREAD (CLICK HERE) on Bell getting a little greedy, by the way, isn't that why everyone left Bell 30 years ago?

I signed up for Bell Fibe TV and internet service November 2010 and it's been a nightmare merry-go-round ever since. When the service is working properly it is the
best service available in Toronto.
With all the talk the last few days about
"bandwidth issues"
in the news and being investigated by the
Canadian Radio and Television Commission (CRTC)
I was looking closely at my bandwidth usage and was surprised by the revelations by Bell this morning in the
Toronto Star.
They had secretly charged me an extra $10 for November for overage on bandwidth in November 2010, the first month I signed up for the service but I still dispute those charges.
The full story can be seen
HERE
in the
Toronto Star, Moneyline
today, with just
"stock answers"
from Bell, which I seem to receive from all their customer service reps. I finally spoke to one rep today,
Mathieu Laurin,
[/i] he was simply amazing, courteous and extremely helpful.
You can read the whole nightmare I encountered
HERE
when I signed up in November 2010, and although after seven visits by service techies it is better, but I still get pixillating and sound-outs. Their answer to the problem is,
"we're working on it"
three months later.
I still have not received my
"free month"
[/i][/color] with it working properly and who knows, maybe they will fix it, I'll keep my fingers crossed.
Also see Bell and Rogers on
charging us too much for bandwidth.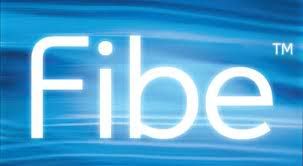 Daniel ... Toronto, CANADA

[/i][/color]
My take on everything
[/color]
This BLOG is an OPINION and experiences of Daniel .. Toronto, CANADA.