Jeffrey Schiller wins SportsNet Queens Park Grand Prix bike race in Toronto.
Wednesday, September 22, 2010 5:17:37 PM
[/img]
Jeffrey Schiller wins SportsNet Queens Park Grand Prix bike race.
"Read more" CLICK HERE - Full BLOG on Queens Park Bike Race[/i]
     "opens new window"
Daniel .. Toronto, CANADA
My take on everything
[/i]
TORONTO
- Cyclist Jeffrey Schiller a 28 year-old from London, Ontario won the 85 km
Ontario Cycling Association
(OCA) sanctioned bike race on Sunday at the SportsNet Queens Park Grand Prix in one hour and 43 minutes with a field of 60 from across North America.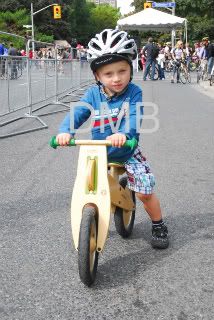 This is the first time since 1998 that the race has been held in Toronto. One of the world class racers Ryder Hesjedal of Victoria, B.C. ranked 11th in the world by the
International Cycling Union
(ICU) and a seventh place finisher in the Tour de France was in the invitation only race at Queens Park Circle and finished in third place.
It was a disappointing turnout for the organizers, but it is hoped the race will become an annual event. Other than the finish line, most of the race route had few spectators. One of the organizers,
John Elias said, "Compared to Europe, the cycling culture is just not there yet in Canada but the sport is growing." That is evident by the success of the Pro Tour races in Quebec."                                                                                
3 year old Sam http://my.opera.com/dandmb50toronto/albums/showpic.dml?album=2752151&picture=70106852 did not win, maybe in 20 years.
[/b]
All over the rest of the world these incredibly fit athletes are treated like rock stars.
Toronto's own Michael Barry was third in the 1998 race the last time he competed at home, but he finished a respectable seven place Sunday.
After the race Schiller said, "It's been a long time for this kind of event, if you look around and see all the people hopefully that spills over for a positive image for the sport."
Three year old Sam attended and wants to be a future racer, in about 20 years. Did you notice
Sam's
wooden bike, no
peddles?
(LINKS open in NEW windows)
[/b]
[/img]
Winner Jefrey Schiller on the left
and Ryder Hesjedal.

Daniel ... Toronto, CANADA

[/i][/color]
My take on everything
[/color]
All photos are
[/size]
©
COPYRIGHT - All rights reserved - with "DMB" Watermark.
[/b][/i]