Toronto cops underfire for unpayed taxable benifits, FREE parking.
Saturday, September 25, 2010 3:06:01 PM
Click the logo to see my PICTURES.
[/size]
Recently Toronto Police Force (TPS) has been underfire for not paying taxes with Canada Revenue Agency (CRA) for their parking privileges (prime downtown locations) at police stations.What I have heard officers, off duty are allowed to park in the police stations downtown when they visit the city for unrelated police events, for free. They also do it at Toronto Fire stations.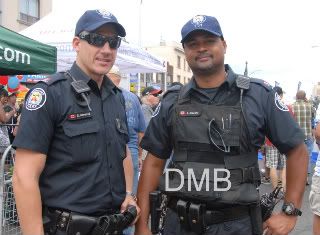 [/IMG]This is explained further in this Globe & Mail article last week.Alan Joshephs the infamous "BUBBLES" is not on desk duty and was spotted recently at The Taste of the Danforth food festival in Toronto.
Daniel .. Toronto, CANADA
VISIT my FULL Opera BLOG
[/i]              
Our favorite cop to hate "BUBBLES" Alan Josephs (on right) from the G20 summit in June/2010.
All photos are
©
COPYRIGHT - All rights reserved - with "DMB" Watermark.
"Read more" CLICK HERE - Full BLOG on cops - "taxable benifits"[/i]
     "opens new window"
A similar "taxable benefit" occurred at the June 2010, G20 Summit in Toronto when this free food golf cart made their trips around the "Red Zone" and gave officers "free food" off a traveling "free food golf cart."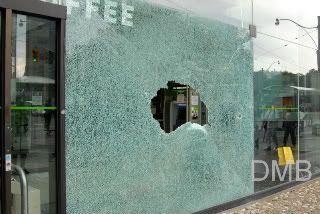 [/img]
Since the police were being paid on a "paid duty basis," why does the taxpayer have to pay out free food for these employees, and likewise on movie sets where they hire paid duty officers for the movie sets (where they make around $60 per hr?)
Can they not bring brown bag lunches like the rest of the local peasants?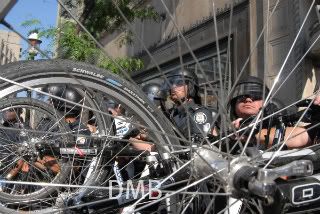 [/img]
Just this week CRA announced they will charge officers a taxable benefit for their free parking at city police stations. They (TPS police) are in a uproar saying they (work around the clock) where parking in the downtown area goes for $20.00. They have also being charged based on the last three years of free parking, which I find is a little unfair, start the new rules now, but don't back date it three years.
All photos are
©
COPYRIGHT - All rights reserved - with "DMB" Watermark.
Many people work around the clock and they don't get free untaxed parking privileges.
These CRA tax rules should apply to all Canadians.
Daniel .. Toronto, CANADA
VISIT my FULL Opera BLOG
[/i] < —Click HERE All links open NEW windows)
Visit my Opera BLOG on the G20 summit.
Posted on September 25, 2010
This BLOG is an OPINION and experiences of Daniel .. Toronto, CANADA.