TOP 10: Instances You Don't Get To Experience Everyday...
Monday, September 14, 2009 9:25:56 PM
ANYTHING? OK...
I have been working as an Online Instructor to Korean students for 3 years now and I am telling you, it is so much fun than you think it is… for 3 years…I have taught, I have learned and I have laughed my heart out. I guess it's time to let yourself hear and read the things that I get to experience every single minute of everyday. Remember, helping is an opportunity. It's a privilege but this time, I can't help it…Read on…
#10 KOREANS ON THE RISE:
One of the funniest links I ever got thru my Facebook account. Koreans are beginning to make it big not only in Korea but also in some other countries. Maybe that's the reason why one of their bigger hits titled "NOBODY" by the WONDERGIRLS got spoofed by Military personnel…Check it out…
#9 STUDENTS ARE GIVEN THE CHANCE TO BE TEACHERS [so they can practice]: Here are some of their funny responses. Their fair share of being brilliant teachers coming at #9 - #8
A. The student [acting teacher] asking the teacher [acting student] on being self centered.
DO YOU WANT TO CALL THE CENTER OF ATTENTION [do you want to be the center of attention?]
B. praising the teacher [acting student] for the great job done.
CLAP YOURSELF FOR TEN COUNTS! [whew! How do you do that?!]
#8
C. asking the teacher [acting student] to sing the song they practiced.
OK…YOU KNOW SONG "ROW ROW ROW YOUR BOAT GENTLY DOWN THE STREET..."
[correct me if I am wrong, but that's "down the stream" right?! I got confused too…]
D. Here, the teacher [acting student] intentionally made a mistake to teach the student [acting teacher] on how to make corrections…the teacher first said "SORRY" the student all of a sudden…
I ACCEPT YOUR APOLOGIZE… [whoa! Almost! That was a good try dear student….better say I ACCEPT YOUR APOLOGY or NO PROBLEM…
E. Last one, the teacher [acting student] was explaining how terrible the memory of his grandfather was…the student [acting teacher] responded…
OH SO THEY BECOMING FORGETFULNESS... [oh so cute and lovable…at least he's trying]
COMING IN AT #7 - #5: EXCERPTS OF WHAT'S GOING ON DURING CLASSES BETWEEN THE STUDENT AND THE TEACHER. THEY MIGHT BE DOING THE LESSONS, PRACTICING, PLAYING or REVIEWING PREVIOUS ONES…BLOOPERS…
#7 A TIE BETWEEN:
A. TEACHER: What ANIMAL is this?
STUDENT: hmmmnn...
TEACHER: Letter P...starts with letter P [answer should be PANDA]
STUDENT: ...thinking...
TEACHER: It's black and white
STUDENT: aahhh!!! PIANO!!!
*** [lesson learned?! be very careful when giving out clues]
B. TEACHER: Give me a word that begins with letter A
STUDENT: APPLE
TEACHER: Very good! Now, give me a word that begins with Q
STUDENT: QUEEN
TEACHER: Oh wow! Give a word that begins with O
STUDENT: OSTRALIA
*** [hahaha...that's how spelling should be...]
#6 [the teacher and the student were having a discussion about a story from the book]
TEACHER: So Sam, why is Manuel bald?
SAM: because he have CHI...CHI...
TEACHER: CHE-MO-THE-RA-PY [slowly]
SAM: CHEM...CHEM...CHEMORTHA...
TEACHER: Repeat after me... CHE-MO
SAM: CHE-MO
TEACHER: THE-RA-PY
SAM: THE-RA-PY
TEACHER: Good! One more time...CHE-MO-THE-RA-PY
SAM: CHEM...CHEMOR...aaaahhhh [pissed] TEACHER HE IS VERY SICK!
***[the teacher took one week to get the student say the word again – THIS IS WHAT YOU CALL, TAKING THE EASY WAY OUT]
#5 [with Da Hyeon, a 5 year old kid - Kat's student] - knows very little english and throws the questions back to her teacher...one day, she picked up the phone...
DA HYEON: Teacher Kat - Katrina!!! [with conviction/authority]
DA HYEON: watta dey today?
KAT: Oh! [surprised]... Today is Monday!
DA HYEON: Belly belly good teacher!!! [of course that's very very good!]
DA HYEON: Al you peeling good?! [are you feeling good?]
KAT: Yes, Im feeling good!
DA HYEON: Teacher Kat - Katrina, belly belly belly good!
KAT: Thank you very much
DA HYEON: Yol we-come [you're welcome!]
*** OH SO LOVABLE...
NO EXPLANATIONS NEEDED HERE…SEE THEM FOR YOURSELF…FROM #4 - #2
#4 TALKING ABOUT GRAMMAR...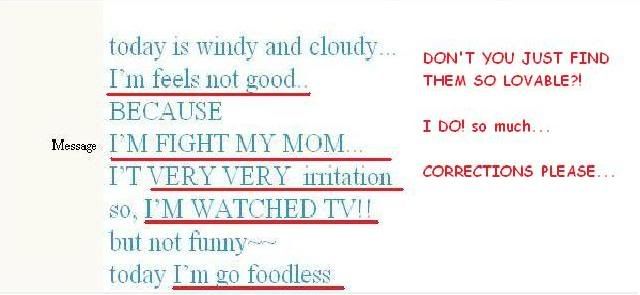 #3 WITH CUTIE CUTIE ANIMALS...GREETINGS...[forget about the spelling]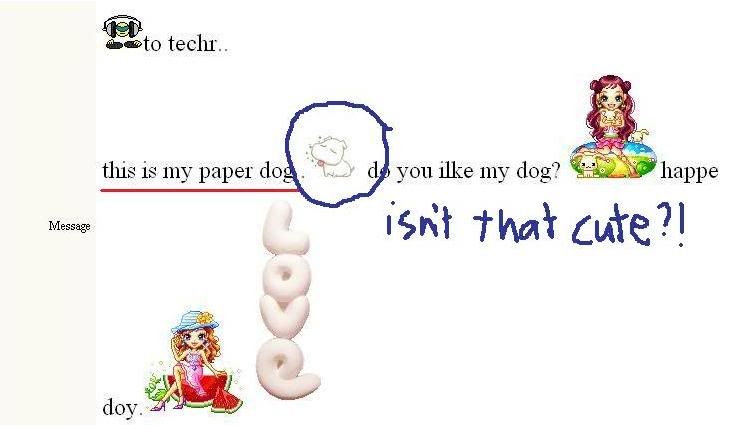 #2 NOSEBLEED...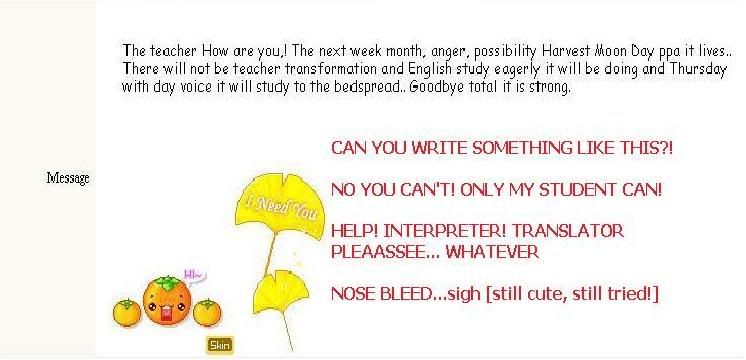 #1 A FUNNY AND RELAXED CLASS…STARTED WITH JOKES…LISTEN
*** THIS ONE WORKS WITH QUICKTIME...
Funny?! Then go laugh… but I hope, that made us all realize that we can all make a difference in the lives of those students - HELP…make the corrections when needed…that's all folks!!!
THANKS: To the teachers who contributed…Appreciated!!!8