Helmet of Gnats - High Street (2010)
Saturday, October 23, 2010 8:33:55 PM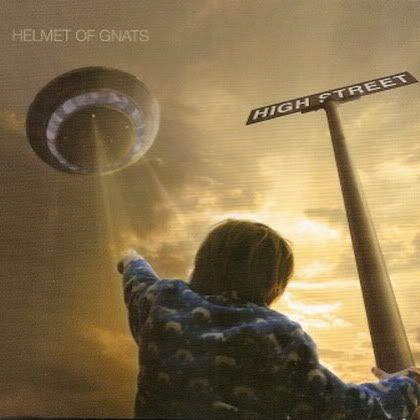 Helmet of Gnats - High Street
2010 - Ambient - CBR@320 KB/s
Prof Review: Been listening to this album for a coupla weeks now -- at least 5 times. It instantly struck The Prof that these cats must have listened to and learned from The Dixie Dregs and John McLaughlin -- a whole lot. The guitar work is very good -- perhaps not quite up to the standards of a Steve Morse -- but very good. Bass and drums are right there when they need to be. But The Prof was most struck by the keyboardist, Matthew Bocchino. This cat can jam with the finest in the business. But please don't misunderstand. The cats are not quite on the level of The Dixie Dregs, but that was a different generation. It's nice to hear the influence. Much to enjoy on this great album. Highly recommended.
Dan Thaler Review: Those who say jazz is dead must only look harder. I suppose it isn't as popular to the greater whole of humanity as it used to be, but neither is prog rock, and I honestly feel that both benefited from such a change. A Helmet of Gnats is part of that subgenre of jazz known as fusion that some prog fans consider inside the sphere of Prog (see what I did there?) I can't say I agree with that when discussing the subgenre's early history, but at the moment a lot of such bands are creating a true fusion of prog rock and jazz.
One of those is, obviously, Helmet of Gnats. HOG (as I refer to the band) is a band that consists of Berkley College of Music grads (and dropouts, a la Dream Theater) from Connecticut. They play an eclectic range of jazz styles, going from Return to Foreveresque light synth solos to heavy guitar jams something like Mahavishnu Orchestra, and I even hear bits that sound similar to The Tangent and Van Der Graaf Generator. Usually though it doesn't sound like anything I've ever heard before, and I imagine it only sounds similar to Corea because they use similar sounding instrument settings. The musicianship is very tight and virtuosic (they are Berkley grads, after all), and I can find nothing to complain about, no matter how hard I try (and I try pretty damn hard).
Prof Note: This album should please almost any jazz fan, particularly the old guys who grew up listening to The Dixie Dregs during the 1970s. Remember them? Steve Morse, Andy West, Allen Sloan, Rod Morgenstein, and Steve Davidowski?
Track reviews
Tsunami – 11:00 – The first track of four begins with a delightfully melodic guitar intro, which is completely misleading given the name, but it moves after a minute into a moderately energetic guitar/organ duet. This track is mostly guitar driven after the end of that, with an almost funky blueslike melody throughout. A few minutes toward the end there's an excellent synth solo, before the guitar comes back to dominate. By the end the track begins to live up to its name and builds in intensity faster and faster. I must say I generally prefer my jazz albums to begin with something that has a little more "oomph", but this does quite nicely regardless.
Tin Whiskers – 10:26 – If Tsunami was guitar-dominated, Tin Whiskers is certainly keyboard-dominated. Lots of excellent stuff here, Corea-style electric piano, hammonds, mellotrons, you name it. The bass-work is also quite funky, and definitely adds to the piece. There's a sort of groove I can get into when I listen to REALLY good jazz piano, and I feel it with this track. Excellently done. Later on, however, there's an excellent guitar solo that gives me the same groovy sensation. I feel like I'm betraying jazz piano in saying so, though. I hope it will forgive me.
Dozer – 12: 43 – Like Tsunami, the track name is not fitting at all. It certainly wouldn't put me to sleep, it's too enjoyable for that. Dozer is very melodic in the beginning, probably to trick the listener into thinking it IS supposed to be a "dozer", but the drumming heats up a bit a little before the quarter mark, just as some more of that wonderful piano-work comes in. A little after that, it gets a bit heavy, and we get a very intense guitar/keyboard duet. The rest of the track is rather fast, but not necessarily heavy, except in sections.
High Street – 30:11 – Oh dear, they're really marching into the realm of prog with this one. A half-hour-long epic, replete with dynamic sections and completely different themes competing with each other. In the band's entire discography, this is the track that seems to have the most influence from Return to Forever. I just hear it a lot, what can I say. I would say that is the reason it's my favorite, though not to say the band is simply imitating, they create a cosmic elegance of their own, even if they might borrow some of Chick Corea's. I say so I don't have to say it's my favorite track just because it's a half hour long, ha! - Dan Thaler, prog-sphere.com
Credits
Chris Fox - Guitars
Matthew Bocchino - Keyboards
Wayne Zito - Bass
Mark Conese - Drums, Percussion
Tracks
1. Tsunami - 11:00
2. Tin Whiskers - 10:26
3. Dozer - 12:43
4. High Street - 30:11