Thursday, July 12, 2007 10:45:30 AM
Herbie Hancock - The Piano
1978 - Columbia - CBR@192 KB/s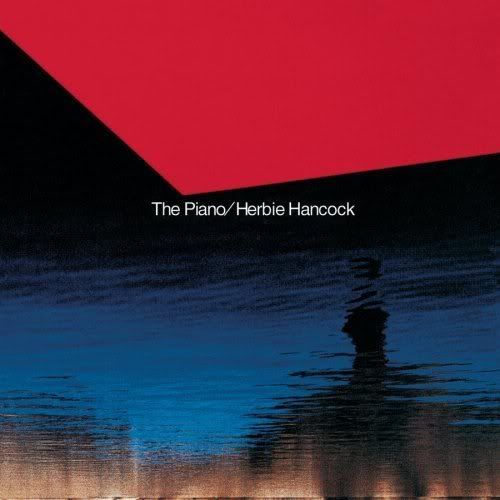 first posted by alvaro3000 @ jazzymusic.org
REVIEW:
Recorded after the funky fusion of Head Hunters, Thrust, Sextant, and other
electric albums, and before the dawn of "Rockit" and more commercially viable and hip-hop-
oriented material, Herbie Hancock took time out in 1978 to touch base again with his piano.
Recorded completely solo, this set was issued only in Japan as the truly awful Feets, Don't Fail
Me Now was issued stateside. A curious set, the first half of the album features Hancock playing
jazz standards in truly elegant and restrained fashion. His treatments of "My Funny Valentine," "Green Dolphin Street," and "Someday My Prince Will Come" — all tracks he performed as part of the Miles Davis Quintet — are elongated, morphed, and beautifully woven together as a suite. The latter half of the recording is comprised of four tracks, "Harvest Time," "Sonrisa," "Manhattan Island," and "Blue Otani," all of which are originals. These pieces are concerned with Hancock's preoccupation with the piano as a solo instrument. They are composed as formalist treatments that are extrapolated upon at several different junctures, or "turning points," within them. They embody notions of classical music à la Anton Webern, blues, Erroll Garner's lyrical phrasing, and Bill Evans' harmonic sensibilities. They are, in sum, inseparable from one another and are usually performed as a suite. This is a stunning triumph for Hancock, and it's too bad that the album has never been issued in the U.S., as it would undoubtedly be a popular addition to his vast catalog. About the closest one can come are the tracks from here included in The Herbie Hancock Box. Maybe someday. - Thom Jurek, AMG
Amazon.com REVIEW: The recognition of Herbie Hancock has already reached the
appropriate levels of praise, so adding to it would be possibly repeating what you've already
heard or read. Still, the man is one of those rare musicians and composers who has shaped
contemporary music. To think anything less would be insufficient, unjust, even petty. Whether
you've loved every turn of his musical career, or had troubles with one or another phase of
evolution of his boundless imagination and sense of adventure, Hancock remains a national
treasure. This collection, previously unavailable unless you own a copy of the limited edition
Japanese album when it came out in 1978, is Hancock as a pianist at his astonishing best.
Particularly in the first three tunes--"My Funny Valentine," "On Green Dolphin Street" and
"Someday My Prince Will Come--his playing is reminiscent of his great with Miles' quintet,
subtle, deep and always flawless. The rest of the original material is just as beautiful. Rarely a
pianist can match virtuosity with deep feeling as Herbie manages to in this album. "Harvest
Time" and "Sonrisa" make that point gloriously. In addition to the original album's recordings, we are treated to alternate takes of the first four songs already mentioned, and they are worthy of their inclusion. For a change "alternate" is not a synonym for "throwaway."
Tracks
1 My Funny Valentine - Hart, Rodgers - 7:41
2 On Green Dolphin Street - Kaper, Washington - 3:20
3 Someday My Prince Will Come - Churchill, Morey - 4:37
4 Harvest Time - Hancock - 4:47
5 Sonrisa - Hancock - 3:44
6 Manhattan Island - Hancock - 3:56
7 Blue Otani - Hancock - 3:24
Releases
1980 LP Columbia 1033
1997 CD Sony 65458
2004 CD Sony Japan 9197
2004 CD Sony Jazz 87083
File Size: 73 MB
Sound Quality: CBR@192 KB/s
Professor freddy
1 comment