Sunday, October 23, 2011 9:26:31 AM
Apple Theme :
Android Theme :
1 comment
Monday, August 22, 2011 10:56:39 AM
A gamelan is a musical ensemble from Indonesia, typically from the islands of Bali or Java, featuring a variety of instruments such as metallophones, xylophones, drums and gongs; bamboo flutes, bowed and plucked strings. Vocalists may also be included.
The term refers more to the set of instruments than to the players of those instruments. A gamelan is a set of instruments as a distinct entity, built and tuned to stay together – instruments from different gamelan are generally not interchangeable.
The word gamelan comes from the Javanese word gamels, meaning "to strike or hammer", and the suffix an, which makes the root a collective noun.
Link :
Wikipedia
Bali:
Java:
1 comment
Monday, August 22, 2011 9:51:50 AM
Borobudur, or Barabudur, is an 8th-century Mahayana Buddhist monument near Magelang, Central Java, Indonesia. The monument comprises six square platforms topped by three circular platforms, and is decorated with 2,672 relief panels and 504 Buddha statues. A main dome, located at the center of the top platform, is surrounded by 72 Buddha statues seated inside perforated stupa. The monument is both a shrine to the Lord Buddha and a place for Buddhist pilgrimage. The journey for pilgrims begins at the base of the monument and follows a path circumambulating the monument while ascending to the top through the three levels of Buddhist cosmology, namely Kāmadhātu (the world of desire), Rupadhatu (the world of forms) and Arupadhatu (the world of formlessness). During the journey, the monument guides the pilgrims through a system of stairways and corridors with 1,460 narrative relief panels on the walls and the balustrades. Evidence suggests Borobudur was abandoned following the 14th-century decline of Buddhist and Hindu kingdoms in Java, and the Javanese conversion to Islam. Worldwide knowledge of its existence was sparked in 1814 by Sir Thomas Stamford Raffles, then the British ruler of Java, who was advised of its location by native Indonesians. Borobudur has since been preserved through several restorations. The largest restoration project was undertaken between 1975 and 1982 by the Indonesian government and UNESCO, following which the monument was listed as a UNESCO World Heritage Site. Borobudur is still used for pilgrimage; once a year Buddhists in Indonesia celebrate Vesak at the monument, and Borobudur is Indonesia's single most visited tourist attraction. Link :
Wikipedia
1 comment
Saturday, August 20, 2011 9:40:28 AM
Tugu Muda - the youth monument - is one of the hallmarks of Semarang, the capital of Central Java. The monument was built to commemorate a heroic five day battle when 2.000 young Indonesians lost their lives fighting for independence from the Dutch and the Japanese. The first stone of the monument was laid by Wongsonegoro, the first governor of Central Java under the new Indonesia, on 28 October 1945, but further work was delayed by the following month when the monument was moved to its present location.
Located in the heart of Semarang, Tugu Muda is well worth a visit by newcomers to the city, whether Indonesia and foreign. The candle-like stone structure sits in a central position surrounded by historic buildings such as the Thousand Door Lawang Sewu, Semarang Cathedral and the Mandala Bakti Museum. The monument, disigned by an artist named Salim, was inaugurated by Indonesia's first President Sukarno on National Awakening Day on 20 May 1953. Several changes have been made to the monument since then, including the addition of a beautiful garden and pond.
2 comments
Monday, August 15, 2011 8:04:34 AM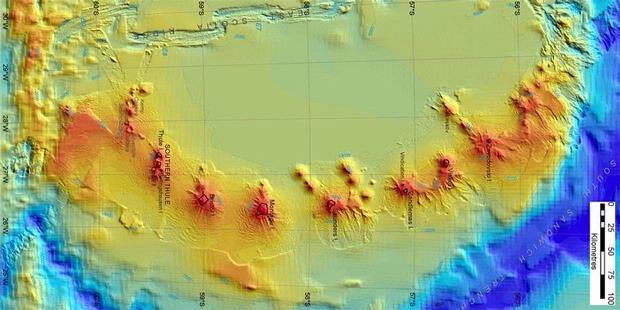 A total of 12 volcanoes are located beneath the frozen sea found on the South Pole region. Some volcanoes are still active. In addition, the expedition team also found a 5,000-meter-diameter crater that allegedly formed by volcanic eruptions.
The series of underwater volcanoes are spread across the South Sandwich Islands. It lies secluded and sea water on it partially covered with snow. Phil Leat of the British Antarctic Survey admitted that they themselves were surprised at the discovery. "There are still many secrets of volcanoes under the sea that we can not understand," he said.
Read more
and translate !
3 comments
Saturday, March 12, 2011 5:13:31 PM
No comments
Thursday, February 17, 2011 3:22:12 PM
Be glad of life because it gives you the chance to love, to work, to play, and to look up at the stars.

By Henry Van Dyke
No comments
Thursday, February 17, 2011 3:12:02 PM
Saying something beautiful can impact a person's life in so many ways. Imagine a small girl who is really considered herself as a pretty face. She looked at herself in the mirror and consistently telling herself, how bad she looked and wondered "what if.." She has pointier nose, wider eyes or even higher cheekbones. She always believe in her heart that beautiful people always heve better chance to make it in this tough world, and her family is always mocking her telling her that she will never be successful in life.
One day, someone came up to her and told her that she has the most beautiful face on earth, telling her that her round nose is as sweet as cherry blossom, her big puffy lips ia as soft as cotton candy and that her narrow eyes is portraying a sence of charisma and that…. "She glows". So, this little girl went back home could not believe that lady had just told her, but it sure had made her felt as the most beautiful girl on earth.
After many years, this girl grows up as a very successful women with full of confidence and she still fell beautiful inside. The words from the anonymous lady has given her the strength to be herself, and to love herself. The most important thing of all, it has given her new light in life.
Often times we say harsh things to people without even realizing how much damage or wound, it will be made to a person's heart. I believe that words that come out of our mouth are full of power. The simple and beautiful words that came out of that lady have sure change the path and the belief of a person's life.

By Imelda Fransisca (Miss Indonesia 2005).

7 comments
Sunday, February 13, 2011 11:37:41 AM
Introduction
The name Indonesia has its roots in two Greek Words: "Indos" meaning Indian and "Nesos" meaning island. This is an excellent description of the archipelago, as there are an estimated 17,508 islands, some nothing more than tiny outcropping of barren rock, others as California or Spain and covered in dense tropical jungle. Approximately 6,000 of these islands are inhabited, with five main islands and 30 smaller archipelagoes serving as home to the majority of the population.
The main islands are Sumatra (473,606 sq.km), Kalimantan (539,460 sq.km), Sulawesi (189,216 sq.km), Irian Jaya (421,981 sq.km), and Java (132,187 sq.km).
Population
The islands and people of Indonesia constitute the fourth most populated nation in the world, with about 200 million people.
The majority is of Malay descen. The population is predominantly Moslem. Nevertheless, Christianity, Hinduism, Buddhism, Confucianism and other religions are freely practiced.
Accommodations
Indonesia offers supperb luxury hotels and resorts along the beach on secluded mountains or in city centres across the country. Medium sized, three stars hotels can be found in many cities as well as in holiday resorts. For those who travelling on shoestring budgets, clean and friendly homestays or losmen are available.
In Jakarta, the small losmens at Jalan Jaksa, near the Gambir train station is a favourite with students and backpackers. While businessmen will go for the deluxe hotels. Medium sized three and four star hotels are spread out in this vast city. Near the Soekarno Hatta Airport there are two airport hotels available; one located outside the airport and another inside the airport terminal.
In Bali, there are hotels along the beaches, and in the hills overlooking lush valleys. From three storied buildings to Balinese styled villages, all offer comfort and luxury service. There are of course smaller hotels with cheaper rates. All are available, but during peak season in July, August, September or around Christmas and New Year, make sure to book early.
In Yogyakarta, comfortable and clean homestays as well as medium and luxurious hotels welcome visitors to this cradle of Javanese culture.
Transportation
Indonesia has several international airports. Besides the Jakarta Soekarno-Hatta which serves both as gateway to the country and hub to all of Indonesia's provinces, international flights also arrive at and leave direct from Bali and Surabaya. There are direct regional flights from Singapore and Malaysia to several destinations including Medan, Padang, Pekanbaru, Solo, Lombok, Makassar (Ujung Pandang), Manado, and from Australia to Kupang and Bali.
Roads on Java, Bali, Lombok, parts of Sumatera, Kalimantan and Sulawesi are good for inter-province travel by car or coach. Rail travel is available all across Java, short distances in North and South Sumatera. Metered taxis or cars can be hired in all large cities. For a leisurely and quaint sight-seeing drive, try the andong or becak in Yogya or other types of horse-drawn carts.
Pelni shipping lines operate large inter-island ferries which offer deck-class to first class fares. For short hops there are local prahus with or without outboard motor.
In most bigger cities and some towns as well, taxis are available, though only in Jakarta, Bandung, Semarang, Surabaya, and Bali metered taxis are commonplace. In other cities and tourist areas one can hire cars, usually chauffeur-driven and paid by the hour or for each one-way trip. Taxi reservation stand is available inside the International arrival hall. An airport surcharge, plus toll road fees will be added to the metered fare.
Climate
Situated completely in the tropics, Indonesia is known as the "belt" of emeralds across the equator. It has warm tropical weather with mostly sunshine and intermittent rain. The dry season lasts from June to September, and the rainy season from December to March. The transitional period between these two seasons alternates between gorgeous sun-filled days and occasional thunderstorms. Even in the midst of the wet season temperatures range from 21 degrees (70°F) to 33 degrees Celsius (90°F), except at higher altitudes which can be much cooler. The heaviest rainfalls are usually recorded in December and January. Average humidity is generally between 70% and 100 %.
Immigration
All visitors to Indonesia must be in possesion of passport valid for at least six months with proof of onward passage, either return or through tickets.
Visas are waived for nationals of 11 countries for visits of no more than one month (non-extendable). The countries are: Thailand, Malaysia, Singapore, Brunei Darussalam, Phillipine, Hongkong Special Administration Region, Macau Special Administration Region, Chili, Marroco, Turkey, and Peru. For those who are not nationals of the above-stated countries and not entitled for free visa facility, the tourist visa can be obtained on the day of arrival according to the valid procedures and rules. Please note that a small fee will be charged. Please consult with Indonesian embassy or consulate for further information on visa.
3 comments
Friends (305)
Latest comments
Tags
Recent visitors