Beautify your desktop with murrine
Sunday, December 17, 2006 3:27:52 AM
Computer user usually beautify their desktop when they just install a new OS, having free time, discover new themes etc. With murrine gtk2 cairo engine installed, you can make your desktop looks nice, and it is light weight.
Murrine have ability to change:
1. Menubar style
2. ListHeader style
3. Menubar Items
4. Style of the Glaze
5. Scrollbar Colors
6. Contrast
Murrine support:
1. Square all the theme
2. Animations ( on progress bar)
Screenshot?
This is one of the sample Murrina Kent uses murrine engine.
Ok, what should I install?
If you are using ubuntu, you can do as bellow:
wget http://malteo.homelinux.net/B54820BC.gpg -O- | sudo apt-key add -
Add the lines bellow to /etc/apt/sources.list
deb http://malteo.homelinux.net edgy-malteo all
deb-src http://malteo.homelinux.net edgy-malteo all
# sudo apt-get update
sudo apt-get install gtk2-engines-murrine
Ok, you need to download themes,
You can search around at
http://gnome-look.org/
and
http://xfce-look.org/
. Those themes uses murrine will usually have keyword murrina***
I find this nice too, but you need to do some modification, else it won't works.
(replace squaredstyle = 0 to roundness = 1)
http://www.kernow-webhosting.com/~bvc/theme/gtk/murrine/
Downloaded theme can extract at ~/.themes then to use apply the theme, can uses gnome-theme-manager. ( Simply goto system -> preference -> theme for gnome user.)
If you using fluxbox on top of ubuntu, add the line bellow to ~/.fluxbox/startup
gnome-settings-daemon &
What else?
You can modify the theme, its a text with options, edit the file gtkrc in the theme folder you have extract, search "murrine", and all the option can be configure easily. The author create a murrine configurator for easy configuration too, but some how the official
murrine site
cannot be access by my side. Thanks to
linux toy
, I able to download the murrine configurator at
here
You wanna see all your results at once, with all the controls everything in one windows, use The Widget Factory.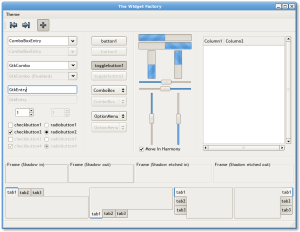 Get it from
http://linuxappfinder.com/package/thewidgetfactory
Have fun!