Friday, February 12, 2010 11:45:00 AM
Nope, this post is not about some random dude named Nordmann (some weird variation of Norman perhaps?
). Nordmann (pronounced something like "Noorman" when you think in English) is actually the local word for Norwegian people, like in Scotland you could say "Scotsman". So, with the traditional issue of generalizing, I'll write a bit about my impressions about the people in general and the local "personality".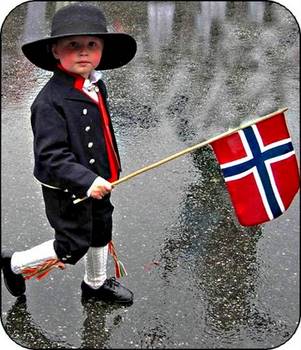 If I had to define Norwegians with one word, I think I'd choose "Shy". Some might say introvert and these variations, but as far as I see, it's the same point... Norwegians are definitely not as outgoing as Brazilians. So a bit different to what I was used to back home...
What I mean with saying that Norwegians are shy - of course, coming from my Brazilian reference - is that in Norway, interaction of people with each other is very different. For instance, trying walking around Oslo and looking at people on the streets. It is very unlikely that anyone will look at you straight in the eyes. Notice in the subway or on the bus: people will look up, down or to the side, as long as they can avoid eye contact. And this just reflects a behaviour that will impact other things too.
They also don't tend to put themselves as superior to others, on the contrary. Sometimes they even need some cheering up and some help in realizing that they are allowed to be better than others (at least at some things) and worst at different ones. Before coming I was told that relates to the
Janteloven
which from my experience is something that is ingrained in the society, but not as strong as some might think. Here is a translation of Janteloven:
Don't think that you are special.
Don't think that you are of the same standing as us.
Don't think that you are smarter than us.
Don't fancy yourself as being better than us.
Don't think that you know more than us.
Don't think that you are more important than us.
Don't think that you are good at anything.
Don't laugh at us.
Don't think that anyone of us cares about you.
Don't think that you can teach us anything.
Sounds quite depressive and even a bit scary, right? Well, on the brighter side of things, Norwegians are very close bonding people. As I had been told before coming here, once you break the ice, once you get closer, to get to know them, changes are you'll become friends. You'll have amazing friends. It's really interesting to notice the difference on how you are slowly introduced to their lives as you grow closer, you can clearly see the difference. Can be really moving sometimes.
So this is a bit on my take on "the locals". Anyone can guess what will be the next subject I might talk about this weekend?
5 comments