35 languages is what Sebastian Heine knows
Wednesday, January 30, 2008 10:06:23 PM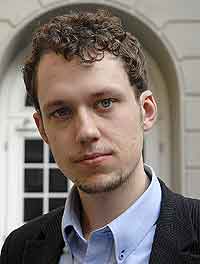 Sebastian Heine is the youngest person I ever know knowing so many languages, 35 in total and he wants to learn 2 languages every year. Thinking of that makes me feel a headache.
For me that I know 2 languages, English and Spanish (I can understand Portuguese) and a little bit of Japanese; it has been very difficult to me to learn many things because I learn something then I forget something in exchange. Knowing so many languages is amazing, and every time I get to know someone that know more languages than me I put a lot of efforts in the language I am learning.
We must see something about Heine, he knows many languages but I think most of them are alike; like Spanish and Portuguese, if you learn one you can understand the other most of the things. And something strange that I found is that he does not speak Italian nor Spanish... but he can speak Latin, Kurd, Arabic, French, English and many more. By the way, his favorite language is Pashto; the official language of Afghanistan and western Pakistan.
If you want to get more informed about Sebastian Heine
watch this video
or
read this article(translated)
.