Posts tagged with "
paths

"

Sticky post

Friday, March 18, 2005 4:48:00 PM



I have traveled for 3 years,
flying back and forth from USA to Egypt.
I live in the Desert of Dreams
where dreams do come true
however not all.

Dreams of the main kind,
the dream I moved there for,
the reasons and beliefs.




The new ME 2006

I am now living back in USA for good
and rebuilding my business once more
and moving forward in my life.
Happy to be back in my mother country
and feeling alive again
also seeing smiles on peoples faces
and hearing them in their voices.



Disclaimer ...



On My blog there is partical nudity, I use sensual photos to illustrate the music which is partial what this blog is about..
If you do not like or want to see partial nudity then please do not read my blog.
Not all posts contain or is with partial nudity photos.
I do write about other subjects.
Consider yourself warned!!!!!!

286 comments
Thursday, December 28, 2006 12:11:29 AM


Anam Cara, Soul Friend

I was returning home on the last train
which was at 9:54 pm from Grand Central
and while riding this train,
we had to get off and transfer to another train to the end
of the line which was my stop.

I was sitting in the car that had the restroom
and this tall man around 40 came to use the rest room
and after that he asked me how my holiday was
I said," horrible."
He said he was sorry and moved to the door for the next stop.

We transfered trains and he walked with me
to the next train and said a few funny things to cheer me up
and it did put a smile on my face a bit.

He came into the car I was in
and asked if he could sit across me and I said sure.
As he sat there he talked
I can smell he was drinking a bit but he was not drunk.

He asked me why my holiday was horrid I told him,
" I have 5 children and 4 grand kids and yet each Chistmas I am alone.. "

He said, " I am sorry to hear this.
I have this problem in my family too with my sisters"

We talked about his life and how much he loved his deceased Mother
and women in general which he holds a lot of respect for.
His stop was coming before mine and
I can sense he felt anxious and did feel my pain.

Before he left he extended out his two large hands to me for my hands
to hold them, I normally don't do this however,
I felt he was placed there for me to feel comfort and for me to allow him to give it.
I gave him my hands and he held them and said,
" I wish so much more for you in 2007
and may your family see what a wonderful woman you are,
it was nice to have spoken to you"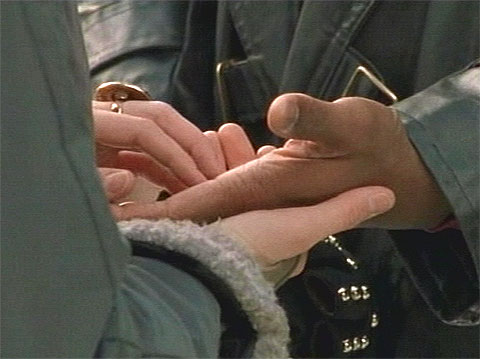 This kindness at this time was just what my heart needed,
I really needed a hug at this time,
however,this gesture too was wonderful
from the
hands of a stranger.

with love,
Fatimah

17 comments